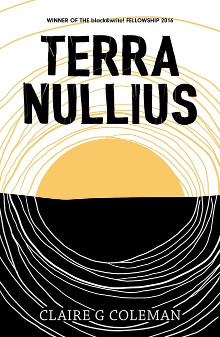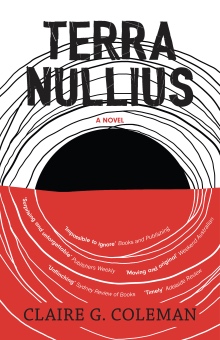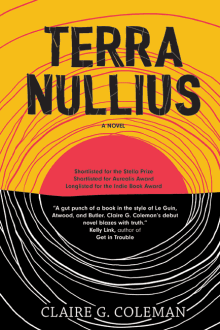 'the truth that lies at the heart of this novel is impossible to ignore' - Books+Publishing
Winner of the 2016 black&write! Indigenous Writers Fellowship
Winner of the 2018 Norma K Hemming Award for excellence in the exploration of themes of race, gender, sexuality, class or disability in speculative fiction.
Shortlisted for the 2018 Stella Prize
Shortlisted for Best Science Fiction Novel in the 2017 Aurealis Awards.
Shortlisted for the ABIA Matt Richell Award for New Writers 2018
Shortlisted for the Reading Women Award
Winner of the Tin Duck Award for Best Professional Long Written Work.
Longlisted for the Dublin International Literary Award.
Longlisted for the 2018 Indie Book Awards
Highly Commended for the Victorian Premiers Literary Awards 2018
Runner Up for the MUD Literary Prize
Out now in Australia with Hachette Australia and in North America with Small Beer Press.
Jacky was running. There was no thought in his head, only an intense drive to run. There was no sense he was getting anywhere, no plan, no destination, no future. All he had was a sense of what was behind, what he was running from. Jacky was running.
The Natives of the Colony are restless. The Settlers are eager to have a nation of peace, and to bring the savages into line. Families are torn apart, reeducation is enforced. This rich land will provide for all.
This is not Australia as we know it. This is not the Australia of our history. This TERRA NULLIUS is something new, but all too familiar.
This is an incredible debut from a striking new Australian Aboriginal voice.
Available in trade paperback, ebook and audiobook.
Reviews:
Starred review from Publisher's Weekly: "Artfully combining elements of literary, historical, and speculative fiction, this allegorical novel is surprising and unforgettable."
Review on the Strange Horizons E-mag.
Review by Adam David Morton on his blog: The War on Terra Nullius: Novel Reading in 2017.
Review from Dogeared Reads
Review on the Adelaide Review website.
Excellent review of Terra Nullius from Readings Books.
Review of Terra Nullius on Books+Publishing unfortunately subscribers only.
Lisa Hill reviewed Terra Nullius on ANZ LitLovers LitBlog.
Lamont Books reviewed Terra Nullius concluding it is a good book for year 10 students up.
Lovely review from Stefens Books in Perth for their September Top Picks.
Other Histories: Terra Nullius / Claire G Coleman by Dasha Maiorova.